Full-time SJVS Students Sign Up for Segment Exams:
Please click monitor below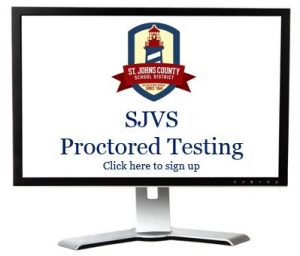 Testing Location:
2980 Collins Ave.
St. Augustine, FL 32084
(904)547-8088
---
State EOC Practice Test(s)
(required before taking EOC)
Please click the above for information regarding how to prepare students for their FSA Testing (Computer-based)
How to Get into the Practice Test(s)
Info and Tests:
State Testing Information
All Full-time SJVS students are required to test on our campus. There will be no exceptions. Please plan accordingly.
Register to take your Spring EOC Exam below:
Registration coming soon!!!
Test Dates and Locations
STATE ASSESSMENT INFORMATION:
All full time St. Johns Virtual Students are required to take all state assessments. SJVS students are public school students and the law specifies that public school students are to take these tests either at their zoned school or at the SJVS Computer Lab located at: First Coast Technical College, 2980 Collins Avenue – Building 1, St. Augustine, FL 32084
SJVS Test Coordinator Contact: Ryan Erskine (904) 547-8088
End of Course State Required Exams:

Algebra 1 – Geometry – US History – Biology 1 – Civics

SJVS full time students have the option of taking the test at their local zoned school or at the SJVS Computer Lab.

Zone School Students MUST contact their school's testing coordinator in order to be scheduled to take these tests.

Contact: SJVS Test Coordinator:


Ryan Erskine (904) 547-8088

Contact: Student's Local Zoned School's Testing Coordinator.
EOC Test Administered

State Open Time

SJVS Test Dates:

Algebra 1 – (RETAKE)

There are two days needed to take these assessments. Each session consists of 90 minute sessions.

Spring:

TBD



This is only for those that did not get a passing score during the first attempt at this test.

*Contact local zoned school prior to these dates to find out when the school's exact testing date is

Algebra I:

Algebra 1 / Geometry,
There are two days needed to take these assessments. Each session consists of 90 minute sessions.

FALL: 09/17/2018 & 09/18/2018


WINTER: 12/03/2018 & 12/04/2018

SPRING:

TBD



SUMMER:

TBD

*Contact local zoned school prior to these dates to find out when the school's exact testing date is

Algebra I

12/03/2018 1:00 pm (part 1 of 2)

12/04/2018 1:00 pm (part 2 of 2)

---

Geometry

09/17/2018 1:00 pm (part 1 of 2)

09/18/2018 1:00 pm (part 2 of 2)

Summer

Biology, Civics, US History

160 Minutes: One Session

FALL: 09/13/2018 at 9am

WINTER:

TBD

SPRING:

TBD



SUMMER:

TBD

*Contact local zoned school prior to these dates to find out when the school's exact testing date is

Biology

---

Civics

---

U. S. History

---

Summer
SAT

Test Dates

Registration Deadline

Location Test given/
Test Center Codes

August 26

July 28

Bartram Trail HS – 10614

October 7

September 8

Pedro Menendez HS – 10616




St. Augustine HS – 10615




Bartram Trail HS – 10614




Ponte Vedra HS – 10383




St. Joseph's Academy – 10754

November 4

October 5

Pedro Menendez HS – 10616




Bartram Trail HS – 10614




Ponte Vedra HS – 10383




St. Joseph's Academy – 10754

December 2

November 2

Pedro Menendez HS – 10616




St. Augustine HS – 10615




Bartram Trail HS – 10614




Ponte Vedra HS – 10383




St. Joseph's Academy – 10754

March 10

February 9

Pedro Menendez HS – 10616




Bartram Trail HS – 10614




Ponte Vedra HS – 10383




St. Joseph's Academy – 10754

May 5

April 6

Pedro Menendez HS – 10616




St. Augustine HS – 10615




Bartram Trail HS – 10614




Ponte Vedra HS – 10383




St. Joseph's Academy – 10754

June 2

May 3

Pedro Menendez HS – 10616




Bartram Trail HS – 10614




St. Joseph's Academy – 10754
Register online at: www.collegeboard.com
$54.50 SAT with essay (entire year testing)


$43.00 SAT (March-June test – without essay)




$28.00 Late Fee




Wait-list testing – add $46.00

NOTE: Be sure to check with your college(s) of choice to verify if essay is required for admission




St. Johns Virtual School SAT/ACT School Code: 102315
ACT

Test Dates

Registration Deadline

Location Test given/
Test Center Codes

September 9

August 4

Pedro Menendez HS – 209540




Bartram Trail HS – 207930




St. Augustine HS – 194210




St. Joseph's Academy – 188740

October 28

September 22

Pedro Menendez HS – 209540




Bartram Trail HS – 207930




St. Augustine HS – 194210




St. Joseph's Academy – 188740

December 9

November 3

Pedro Menendez HS – 209540




Bartram Trail HS – 207930

February 10

January 12

Pedro Menendez HS – 209540




Bartram Trail HS – 207930




St. Joseph's Academy – 188740

April 14

March 9

Pedro Menendez HS – 209540




Bartram Trail HS – 207930

June 9

May 4

Pedro Menendez HS – 209540




Bartram Trail HS – 207930

July 14

June 15

Bartram Trail HS – 207930
---
ACT Review Registration
---
Register online at: www.act.org
$39.50 ACT – Without Writing


$56.50 – With Writing




$24.00 – Add to regular fee




Standby Testing on test date – add $47.00

NOTE: Be sure to check with your college(s) of choice to verify if essay is required for admission




St. Johns Virtual School SAT/ACT School Code: 102315
For More Testing Information:
PSAT Information
Please click link below for information
Please visit www.fldoe.org for additional information:

Please visit www.collgeboard.org for more information about SAT/ACT Assessments: