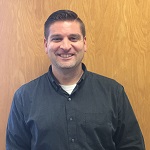 Ryan Erskine Bio
I am currently pursuing my Masters of Educational Technology Leadership at the University of North Florida. The estimated graduation will be in the Spring of 2018.
I hold two Bachelors degrees from the University of North Florida in: Sociology and Political Science
Served in the United States Navy from 2003-2007. Operation Iraqi Freedom veteran
Have served in the education field since 2014, where I started my career as a Paraprofessional before making the switch to a Data Operator. I was promoted to Registrar/Testing Coordinator in 2016, a position I am proud to still hold.
If you have any questions or concerns please feel free to email or call me:
(904)547-8088