SJVS Resources
[hr]
District Resources
[hr]
Student Progression Plans
[hr]
St. Johns Virtual School SAT/ACT School Code:  102315
---
What is my zoned school?
http://www2.gis.bocc.co.st-johns.fl.us/SchoolAZ2/
---
Florida Students – Educational Resources for Learning
Your source for Florida Standards Student Tutorials and Resources:

---
Florida Department of Education Graduation Requirements
---
McKay Scholarship Program Information Letter 2015
---
Free Focused Practice for SAT with CollegeBoard and Khan Academy


SAT Prep with CollageBoard and Khan Academy
---
Need a Transcript?  Check or Money Order ONLY:
Transcript Request Form
---
2015-2016 Parent Resource Guide
---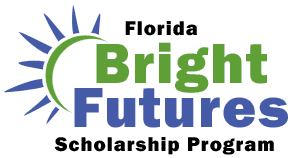 Please click on the above link for Florida Bright Futures Scholarship Program
---
Answers to the most common questions about virtual school, such as "how does it work" etc. can be answered by visiting the FLVS help site.
---
FAQ's specific to St. Johns Virtual
Need Tutoring?  Please click on the link for more information!
Tutoring Information
Are the same lesson plans developed by FLVS being used?
Yes, we lease the FLVS courses.
What is the process for scheduling proctored exams?
Please click on the link under Menu (to the right) for Proctored Exam Information.
Can my student still participate in St. Johns County public school sports?
Yes. Home Education and SJVS students are eligible to participate in sports at their St. Johns County zoned public school. You must notify the school of your intention to participate in sports BEFORE the beginning of the athletic season in which you wish to participate.
Can I participate in other activities at the St. Johns County public school like clubs, band, etc?
Maybe. If you are registered as a home schooled student with the district, you may submit a request in writing to the principal of your student's zoned school requesting permission to participate in an activity at that school.
Can I monitor my student's progress online?
St. Johns Virtual requires all parents to open and maintain a guardian account. Through this effective communication tool, parents will know almost as much as the teacher about their students' progress.
How do I sign up for St. Johns Virtual if my student is currently in FLVS?
Your student should complete the current course in which he or she is enrolled and then when the time comes to select a new course, simply register in VSA for the course through St. Johns Virtual!
Is there any counseling or guidance on course requirements available to St. Johns Virtual students?
Yes, we encourage you to make an appointment with us so we can "begin with the end in mind".
Can students receive a high school diploma through St. Johns Virtual?
Yes, eligible students can enter our new full-time virtual instruction program and receive a diploma from a St. Johns County School if they complete all graduation requirements.
Can my student be enrolled part-time in St. Johns Virtual and part-time in regular high school?
Yes, if a student makes these arrangements with their zoned St. Johns County public school before the beginning of the school year.
Will my middle or high school student receive a report card?
Yes and No. Your students will not receive a printed report card from St. Johns County. However, you will receive monthly progress reports for each course in your email each month. After your student completes a course, you will also receive a "Final Grade Report" in your email as confirmation of the grade and credit issued.
Is there assistance available for helping us choose courses and design a learning plan?
Absolutely! We are eager and available to assist you in creating a CLP for your student. We encourage you to make an appointment with us so we can "begin with the end in mind".
---
Florida High School Athletic Association Form
EL13S Registration Form
---